NWSE Blog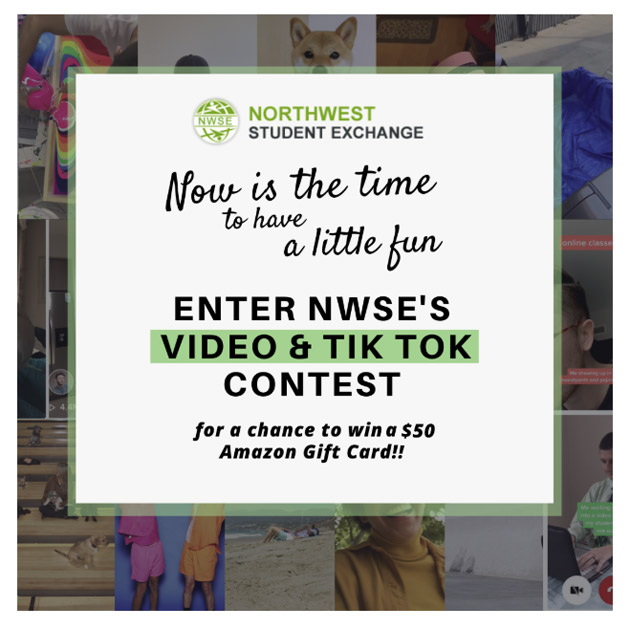 Mar 30 2020
We hope you are enjoying the suggested activities during this period of school closures! As promised, we are back!
NWSE will continue to suggest cool activities during this temporary coronavirus situation, to help you remain positive and engaged with each other, yourselves and your program.
….
School Closure Video Contest
Win a $50 Amazon Gift Card!
Simply follow the instructions on our contest page to upload your videos.
Contest Deadline: Friday, April 17, 2020
1st Prize Winner: $50 Amazon.com gift card
2nd and 3rd Prize Winners: $25 Amazon.com gift card
Contest Categories:
"School Break":
Put together a short video to tell/show us what you're doing during your school break. What does your day look like? How are online classes going for you? Have you done any of the suggested activities? We want to hear about your experience in this unusual time.
"Time to have fun:"
Get creative and have fun with a TikTok-style video. Use the app and show us your talents: singing, dancing, magic tricks, or any other (hidden) talent. Let's keep each other entertained and make the best of this current time.
Remember, you can upload as many of your videos as you'd like, directly here!
….
School Work and Online Classes
First: If you haven't already, check with your own school and counselor now about online study options and/or requirements of your school. Online options:
Access to hundreds of Courses
(Free without upgrade for certificates)
1,500 free online courses from to top U.S. Universities
….
Virtual Field Trips
Monterey Bay Aquarium
Go on a deep-sea adventure through exhibit webcams and watch sea creatures in real time.
Tip: There is also a classroom resource webpage with more information, activities, and games
Virtual farm tours of farms in Ontario.
….
Teens in Action
Ted Talks from scientists, musicians, innovators, activists —
all under the age of 20.
….
Arts and Crafts
Collection of Youtube Channels to Teach You How to Paint for Free
Get inspired with TikTok #Painting
….
Mindfulness, Meditation and Exercise
High-quality free yoga videos
All levels are welcome to learn and grow in the art of yoga!
….
Cooking and Baking
Delicious Desserts for you and your host family to make!
Take a picture of the final product and tag @NorthWestStudentExchange #ExchangeYourWorld
….
Virtual Tours of Museums
National Gallery of Art, Washington, D.C.
This famous American art museum features two online exhibits
Musée d'Orsay, Paris
Travel from home with this virtual tour.
….
Your turn!
Being at home isn't all bad! Tell us what activity you have enjoyed so far that's NOT listed above.
We want to know! It may just be featured on our next newsletter.
Have fun filming for the NWSE Video and TikTok Contest!
We'll get through this together! #ExchangeYourWorld #NorthWestStudentExchange
Best wishes,
Your NWSE Team