NWSE Blog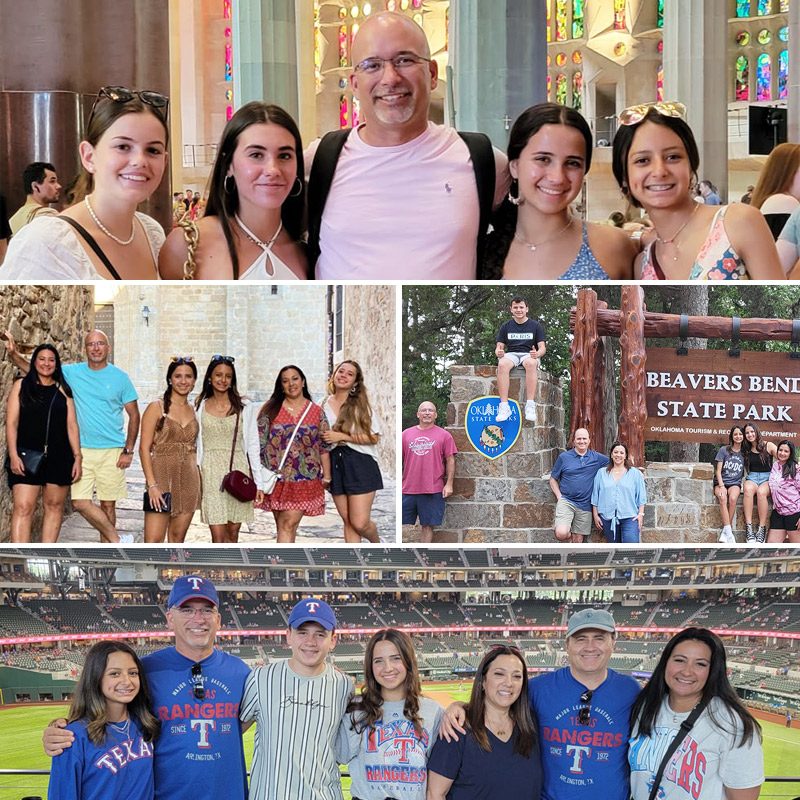 Oct 18 2022
One goal of cultural exchange is to connect and share with people from other countries and cultures. The Beasleys, an NWSE host family, and the Rueda Dujovnes family from Spain have taken this concept one step further than most, vacationing together in each other's home countries at the end of the exchange program this past June. They called it "30 days of Vacation"!
It all started when the Beasleys agreed to host their third exchange student, Natalia from Spain, in 2020-2021. Natalia's sister, Laura, had participated in a previous NWSE exchange in Utah, and now Natalia was ready for her own exchange experience. However, the pandemic postponed Natalia's exchange year to the 2021-22 school year. Over that time, the Beasley and Rueda Dujovne families connected via email, WhatsApp, and Facebook. Both families spoke often before Natalia's exchange in Texas and Katie (Beasley) could not wait to meet her host sister.
Natalia was greeted with a big welcome sign by her new host family in July 2021, in time to go on a family vacation to the Texas Hill Country, attend her school's cheer camp, and make friends prior to starting school. She went on to have an amazing exchange year but that is not the end of the story…
Natalia's natural parents, along with her brother, who is currently on an exchange with NorthWest Student Exchange, arrived in Texas last year in early June.
The Beasley family shared a warm "Texas Welcome" by taking their Spanish guests to the Fort Worth Stockyards, an authentic Mexican restaurant, the Texas Rodeo, and a Texas Ranger baseball game where the two dads were wearing their matching shirt, followed by a social media post titled "My brother from another mother". From there, the two families headed to Oklahoma for some fishing, where Natalia caught her first trout, and they kayaked and enjoyed boating life on the lake. The fun continued in East Texas when Natalia's family went to a Dude Ranch, where they went horseback riding and off-roading.
Upon their return to Fort Worth, they ended their American experience by going to a drive-in movie under a starry Texas sky in the back of a pickup truck, and finally celebrated with a good ol' neighborhood good-bye party.
Fast forward a week later, and the Beasley family boarded a plane headed for Madrid. The two families set off again together, this time with Natalia's family as the tour guides. They explored the Spanish countryside of Caceres, and went to Merida, which is home to some of the best-preserved Roman ruins in Spain. From there, the families visited the city of Seville, where they saw the remains of Christopher Columbus, and enjoyed a picturesque carriage ride around the city. A new day, a new city took the group to Cadiz Spain, Victoria Beach and blue skies, followed by an authentic Spanish paella. Back in Madrid, they browsed the world-famous markets, stopped by the Royal Palace, and of course had to test the amazing Churros!
Surprise – the story gets better …let's add in a reunion. The Beasley family first welcomed an NWSE exchange student, Hannah from Germany, for the 2019-2020 school year. They have stayed in touch with her ever since. Since the Beasleys were in Europe, Hannah decided to travel to Madrid to be reunited with them. Lots of hugs, smiles, happy tears, and introductions ensued, as Hannah joined the family for the remainder of their vacation in Spain!
But wait, there is one more twist in this extraordinary exchange story to share! The Beasleys, along with their own daughter and exchange daughters Hannah and Natalia all hopped on a high-speed train to Barcelona to meet Julia, the Beasley's newest NWSE exchange student for the 2022-23 school year. Julia had been texting and WhatsApping with her new host family since her NWSE placement in January and got to meet her new American host family in person and enjoy some sightseeing all together in Barcelona.
So many great memories, reunions and life-long connections were made… all because one family, the Beasleys, opened their heart and home to cultural exchange.
The only time you run out of opportunities is when you stop taking them.  Don't miss your chance to host an NWSE exchange student in 2023-24 and write your own exchange story with your family.