NWSE Blog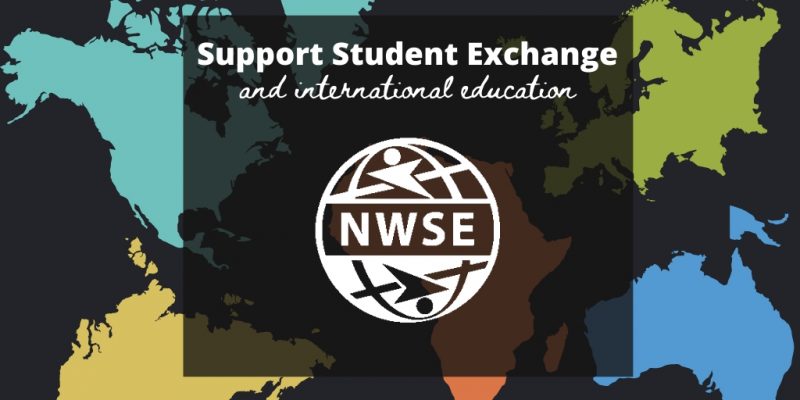 Apr 27 2020
Support the NWSE GoFundMe Campaign
Dear NWSE Community, 
The NorthWest Student Exchange programs have been hit very hard by the coronavirus situation. We seek your support to help NWSE avert the full impact it will have on our programs. Already this year way too many of our students were forced to separate from their host families and schools, having seen their exchange programs abruptly stop.
NWSE's students and families today and tomorrow remain a close knit community – a community to which you belong – a community that, in this moment, needs you! Your tax deductible donation will ensure that life-changing friendships across borders, international understanding, language learning and cultural exchange will continue as we emerge from these temporary worldwide challenges.
Why we ask for your tax-deductible support:
The suspension of international mobility has caused a significant decrease in exchange student registration and participation.
As a 501(c)(3) nonprofit organization, NWSE receives its entire funding through students' participation fees.
With participation cuts due to the coronavirus crisis, NWSE will lack financial resources to carry out its mission
With your tax-deductible donation we:  
Take immediate action to retain essential NWSE staff who provide our exchange programs and excellent care for our students and families.
Provide scholarships to deserving students for their exchanges, and  help launch their future careers through international internships and related educational experiences.
Continue to sponsor students from all over the world. Facilitate international exchanges for another 33 years for great students, families, and communities.
Help minimize the coronavirus impact on the global foreign exchange student community.
NWSE has weathered many profound global crises since its inception in 1987: from the stock market crashes, ensuing recessions and bank collapses of 1987 and 2007, to the tragedy of 9/11. Each time we were able to emerge from the storm intact and even more vibrant that before, without seeking assistance.
For the first time since our founding 33 years ago, NWSE faces a challenge posed by this coronavirus crisis. It is unlike any other, caused by the precipitous drop in financial inflows NWSE needs to support our mission through the next academic year cycle.
Students' and Parents' exchanges have been forfeited this year; dreams have been dashed or put on hold. We need your passion and generosity – the passion and generosity of our student exchange community – to support future exchanges.
We hope to count on your tax deductible donation of any amount so that future exchanges are not lost to daydreams. We cannot do this without you.
NWSE's worldwide fundraising goal through GoFundMe is $200,000. This goal may seem daunting. But if each NWSE Alum donates an average of only $50, we will reach that goal.
We ask everyone reading our appeal to please donate now, and share this campaign with your family, friends, and community. No donation is too small. We appreciate any amount you can donate, and your sharing our campaign with others. Your one-time or recurring donation of any amount makes a huge and positive difference today – and makes tomorrow's exchanges possible!
NOTE:  We launch our campaign today by thanking anonymous donors for the first $5,000 of our campaign! Thank you so much! Let's build on that momentum!  
All of us at NWSE and our future exchange students are grateful for your solidarity and generous support!
Thank you!
Your NWSE Team