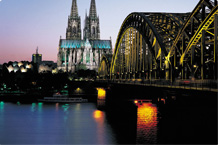 Germany
Back to Exchange Countries
Germany is a vibrant, economically and culturally diverse country – a world leader in renewable energy technologies, manufacturing, tourism and culture. Germany enjoys successful schools, accessible public transportation, historic downtowns, and livable, pedestrian-friendly communities.
Exchange students are placed with host families in both large and small communities throughout Germany, and attend the 10th or 11th grade at a Gymnasium, or other public high school.
NWSE will help you arrange after-school German lessons for at least the first several weeks of your exchange if you do not have sufficient German skills when your program begins and you are otherwise qualified to participate in the program. This helps accelerate your language acquisition. You should also plan to join other after-school and community activities together with your German peers, so you can further improve your language skills, find friends, and learn about German culture.
Application Requirements
To be considered for the program, you must:
Be 15 to 18 years of age by the start of the program
Be in 9th – 12th grade at the time you are applying for the program
Have an average grade point average (GPA) of approximately 3.0 (out of 4.0).*
Current study of German, at least one year of successfully studying high school German, or proof of the equivalent (such as summer intensive language study) is required.
Demonstrate a strong motivation to learn German. Existing German skills are a significant advantage.
Demonstrate maturity, open-mindedness, consideration, adaptability, as well as other important social and communication skills.
Be in good physical and mental health.
* NWSE may consider you for the program with a GPA below 3.0 if you can demonstrate appropriate qualifications in other areas. We are happy answer any questions about the application requirements.
Program Dates
The program dates below are approximate:
| | | |
| --- | --- | --- |
| | Program Start | Program End |
| Academic Year Program: | Late July to mid-September | Late June – early August |
| Fall Semester Program: | Late July to mid-September | Mid-January – late February |
| Spring Semester Program: | Early January to late February | Late June – early August |
The Program Includes:
Placement with a carefully screened volunteer host family who provides room and board
Supervision by an NWSE representative in Germany
Acceptance to a German high school
Travel insurance (if chosen)
After-school German language course in Germany for up to 40 lessons (for One-Way Exchange participants only, total value up to $350)
Pre-departure and post-arrival student orientations
Required documents for the German residence permit
Orientation for the host family in Germany
Advising and counseling, when needed, throughout the application process and program
Handbooks and informational resources for students
NWSE certificate of participation upon successful program completion
Not included in program fees:
Plane tickets and other travel-related expenses. NWSE can help you book an affordable flight
Fees for German residence permit (approx. 100 Euros) and, for non-U.S. citizens, a German Visa
After-school German language classes (required for students whose level of German is not advanced at the program start in NWSE's assessment)
Passport fees
School supplies
Lunch, if you do not to pack lunch from your host family home
Personal expenses, including for public transportation. NWSE recommends at least $200-250 per month for the duration of the program plus $250 for each semester
Any other expenses or services not listed as being included in the program fees
German Program Fees
Please note that quoted program fees are subject to change without prior notice due to fluctuations in exchange-related economic factors.
One-Way Exchange:

Semester

Year

Option One: Program Fees and Insurance *
Option Two: Program Fees Only
$4,625
$4,275
$5,175
$4,575
Reciprocal Exchange:

Semester

Year

Option One: Program Fees and Insurance *
Option Two: Program Fees Only
$2,350
$2,000
$3,050
$2,450
Sponsored Placement Service:

Semester

Year

Option One: Program Fees and Insurance *
Option Two: Program Fees Only
$3,225
$2,875
$4,025
$3,425
* Program fees with insurance may be higher for non-U.S. citizens