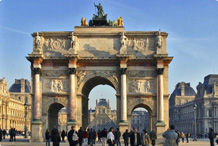 France
Back to Exchange Countries
La vie est belle in every part of modern day France! This incredible country has so much to offer anyone who chooses to study abroad, ranging from historical monuments such as the Eifel Tower to small quaint towns tucked away in the French countryside. Between your host family and your host school you will be able to fully immerse yourself in this rich culture making friends and exploring its history, delicious cuisine, beautiful natural landscapes and vibrant, multicultural cities.
Exchange students are placed with French host families throughout the country. Host families may vary from a single parent without children to a large family with more than one child. Host homes may be apartments or single-family dwellings and placement environments range from urban to small towns. Students may have their own rooms or be expected to share a room with a host sibling of the same gender and similar age.
As an exchange student you will have the amazing opportunity to connect with your host family on a personal level. While in their home you will live like a family member and be expected to participate fully within all aspects of your host family life.
School Grade Levels
Students on the NWSE program are usually placed in the 11th grade or lower. NWSE students do not take the Baccalaureate (BAC). The BAC is the final exam after the 12th year, for which French students have spent their entire educational careers preparing. Exchange students rarely attend the BAC classes because of the significantly higher level. Principals of the schools will sometimes place exchange students in the 10th grade, as this grade has many different subjects, and students can attend a wide variety of classes. The French lycee usually does not allow you to choose your classes: all students in one grade take the same classes.
All classes are taught entirely in French, so students should already have sufficient language comprehension skills before arriving on their exchange. In order to ensure this, we recommend that students have at least two years of high school level French classes before going on their exchange and/or take appropriate language courses to bring up their language skills. if a student's language skills are not up to par upon arrival in France they will be required to take language courses for at least two to three weeks to help accelerate language skills acquisition. Prices for these classes vary.
Students have the opportunity to take part in representative-organized excursions in France. Students are responsible for any potential costs for participation in these excursions.
Application Requirements
To be considered for the program, you must:
Be 15 to 18 years of age on the first day of school in France
Be in 9th – 11th grade at the time you are applying for the program. Students are not placed within the 12th grade due to the fact that 12th grade in France is completely devoted to studying for the Baccalaureate which is taken at the end of the year
At least two full years of high school level French
Currently attending high school and maintaining a B average
Demonstrate maturity, open-mindedness, consideration, adaptability, as well as other important social and communication skills.
Be in good physical and mental health.
* NWSE may consider you for the program with a GPA below 3.0 if you can demonstrate appropriate qualifications in other areas. We are happy to answer any questions about the application requirements.
Program Dates
The program dates below are approximate:
| | | |
| --- | --- | --- |
| | Program Start | Program End |
| Academic Year Program: | Late August – Early September | Mid-June |
| Fall Semester Program: | Late August – Early September | Mid to Late February |
| Spring Semester Program: | Early January to Mid-January | Mid-June |
The Program Includes:
Placement with a carefully screened volunteer host family who provides room and board
Supervision by a representative of NWSE in France
Acceptance to a French high school
Pre-departure, post-arrival and re-entry student orientations
Orientation for the host family in France
Advising and counseling, when needed, throughout the application process and for the duration of your program
NWSE certificate of participation upon successful program completion
Not included in program fees:
Plane tickets and travel-related expenses
Visa related costs (including passport fees and travel expenses to visit the consulate in person in the USA to apply)
School supplies (approximately 100-150 Euros)
Lunch, if you do not to pack lunch from your host family home
Personal spending money to cover personal expenses (approximately $200-250 per month of the duration of the program)
Transportation to and from school in France (depending on proximity of host family to school)
Program Fees
Please contact NWSE for program fee information. Scholarships ("fee reductions"), based on merit and need, may be available.